We offer a range of services to make getting the propane you need more convenient in Wasaga Beach.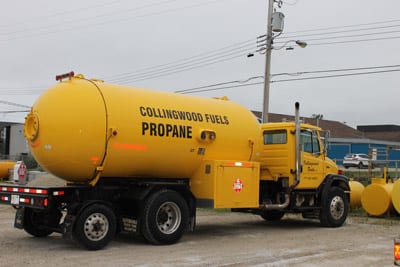 Propane is useful for a variety of applications and is known for its fuel economy, portability and safety for your home or business in Wasaga Beach, Ontario. At Collingwood Fuels, we offer propane that is produced in Canada and is ready available for you when you need it. In fact, we offer a range of services to make getting the propane you need more convenient, whether you are heating your residence or your commercial and agricultural buildings and appliances.
Delivery – When you are busy with your daily routine or focused on running your business, getting the propane you need should be as convenient as possible. If you don't have time to keep your tank topped off, we provide convenient delivery services to meet your needs.
Installation – If your tank has suffered damage or doesn't help you heat your home or business like it should, then let our team at Collingwood Fuels provide propane tank installation services that keep you up and running all year long.
Fill Station – If you simply need to top off your tank or get a quick fill-up, at Collingwood Fuels, we also offer a propane fill station that allows you to get the fuel you need quickly and efficiently. Just stop on by, and we'll be happy to assist you with all your fueling needs.
You don't have to call around town looking for the best fuel services when you come to us at Collingwood Fuels. Providing reliable and cost-effective solutions for our customers for over 40 years, you'll find everything you need when you shop with us. Contact us today to discuss your needs or schedule your next delivery!