You can trust us to help you select an optimal air conditioning unit and provide you with high-quality air conditioning installation.
Having a reliable air conditioning system is more than a convenience, especially if you run a commercial business. Many companies rely on air conditioning to safely store supplies and keep their employees and patrons comfortable. Whether you are in need of air conditioning for a new construction, you need to replace a no longer functioning system, or you are ready for an upgrade, we can provide you with dependable air conditioning installation.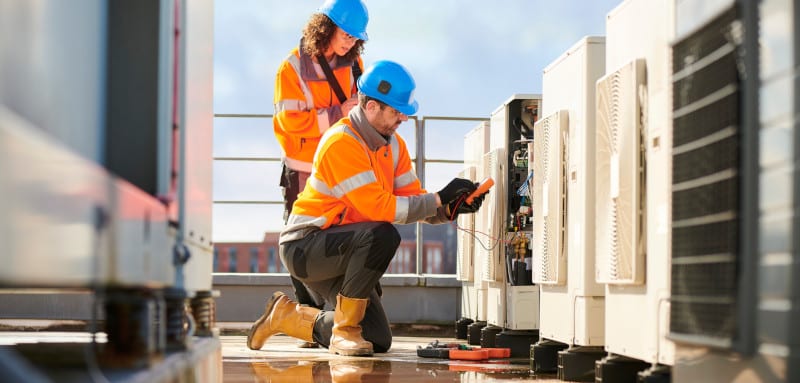 Here at Collingwood Fuels, we can help you select the best air conditioning system for your home or business. You can then rely on our highly trained, experienced, and certified technicians to ensure that your air conditioning installation is done with excellence. Good air conditioning installation is critical in the functionality of your system. However, you can increase the longevity of your air conditioner and prevent many repairs with regular maintenance. Along with quality air conditioning installation, we can also be trusted to provide you with dependable air conditioning maintenance, or air conditioning repair should the need arise.
For over forty years, our company has been a trusted source for fuel delivery and installation needs. We have built a company with high quality service and excellent management. We have recently expanded our business to provide for your heating and air conditioning needs, and we know you will be satisfied with the same great qualities that have allowed our company to grow.
For any questions or to schedule your air conditioning installation in the Collingwood, Ontario area, give us a call today.
FAQs About Air Conditioning Installation
We are able to anticipate many of the questions our clients have for us because we have been in business for over 4 decades. For your convenience, we have included some of our frequently asked questions and their answers below. If you have other questions about air conditioning installation, contact our team today and we will help you get the information you need.
How much does air conditioning installation cost?
The answer may depend on your particular situation, so we encourage you to reach out to us. We would be happy to discuss your needs and go over the details, so we can give you a more specific answer.
What kind of air conditioning units do you install?
We can install and service any type of A/C unit for our current clients who regularly purchase oil or propane from us.
What do I need to do after air conditioning installation?
To keep your newly installed air conditioner in prime condition, you can turn to us for regular maintenance. We recommend that you have us examine and maintain your unit at least once a year in the spring to ensure it is functioning properly. You can also turn to us whenever your unit needs repairs.
How can I make my air conditioner more energy efficient?
You can set your thermostat fan switch to "auto" instead of "on" to save energy. Keeping your vents and filters clean is also a good practice that will help you conserve energy and save money.
---
At Collingwood Fuels, we offer air conditioning installation to those in South Georgian Bay, Clearview Township, and Simcoe County, including Collingwood, Blue Mountain, Wasaga Beach, Mulmur, Stayner, Creemore, New Lowell, and Elmvale, Ontario.